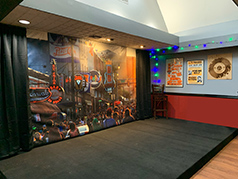 We have live blues entertainment Friday
and Saturday 7-10 pm!

Please "Like" us on our Facebook page for the latest info on our entertainment schedule.
We bring entertainers who are just as likely to be seen on Beale Street in Memphis or the hottest metro stages around the country, right to your table for authentic music in a unique atmosphere.
Musicians love to work our room because we have captured that "juke joint" atmosphere of long ago, where the performers are as much a part of your evening as our delicious food, libations and good friends. Once you've experienced a grand night of music and food here, you'll be back!
Check our Facebook page for a list of upcoming shows and be sure to visit our artist's pages as well to let them know how much you enjoyed their performances!